Pothos are houseplants that belong to the Epipremnum genus, specifically, the aureum species of the plant family. They are a popular vine variety native to Mo'rea in the French Peninsula.
Also known as Devil's Ivy, Ceylon creeper, taro vine, or ivy arum, pothos are popular houseplants for beginners because of their low maintenance needs.
Their heart-shaped leaves with trailing stems can be used to drape cupboards, hanging baskets, and shelves, creating an exciting patch of greenery inside homes.
Pothos, the botanical meaning being 'Golden flower on the tree stump,' are non-flowering plants that thrive in direct sunshine in their tropical native regions and can make excellent year-round houseplants.
Let us look at some of the beautiful pothos varieties with their names and pictures that can be a welcome addition to many homes.
13 Varieties of Pothos
Golden Pothos (Epipremnum Aureum)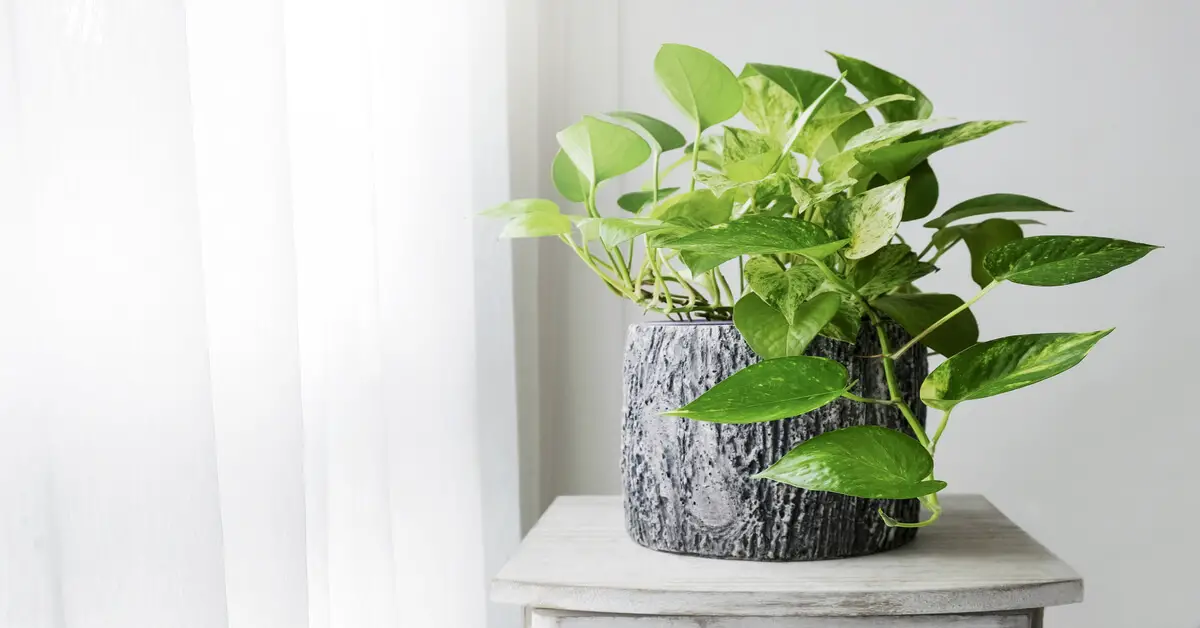 Golden pothos, also known as Devil's ivy, is the most popular kind of pothos available. This traditional pothos type is characterized by its heart-shaped leaves of bright emerald green color with streaks of creamy yellow color variegation on the leaves.
Golden pothos is native to French Polynesia and is known for its easy maintenance. In tropical areas, they often grow vigorously, acting as a ground cover. Their vine-like structure makes them great for climbing up the trees and creating roof-like foliage.
Even when they are adaptable to most weather conditions, Golden pothos thrive best in warm, bright sunshine. This array of pothos can exhibit huge leaves of 2-3 feet long with slits when allowed to climb up support.
Marble Queen Pothos (Epipremnum Aureum' Marbel Queen')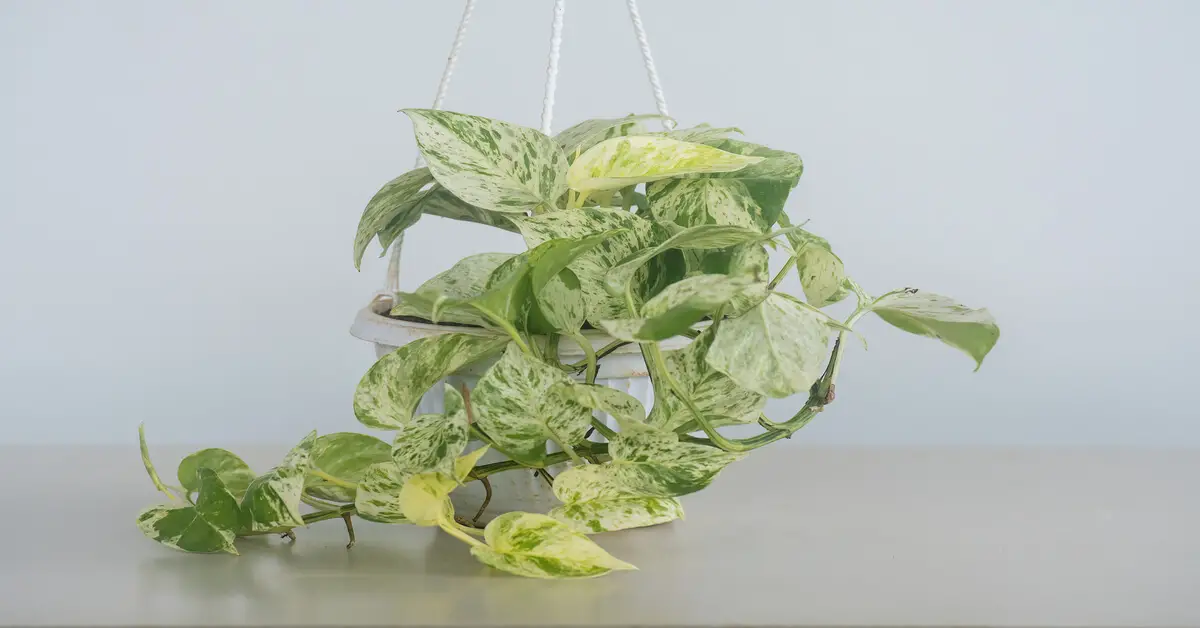 Marble Queen pothos is another well-liked variety of tropical vines. It is known for the marble-like patches of moss green and white on the leaves and stems. Because of its extreme variegation, Marbel Queen pothos is a slow grower. Due to its lower chlorophyll content, this pothos type needs medium to bright indirect light to thrive. Avoid keeping them in the dark corners to allow them to flourish.
If kept in dark places, the heart-shaped leaves of Marble Queen pothos might lose their white streaks and become greener. Increase the amount of light around the plant to get more pronounced variegation.
Manjula Pothos (Epipremnum Aureum Hansoti14)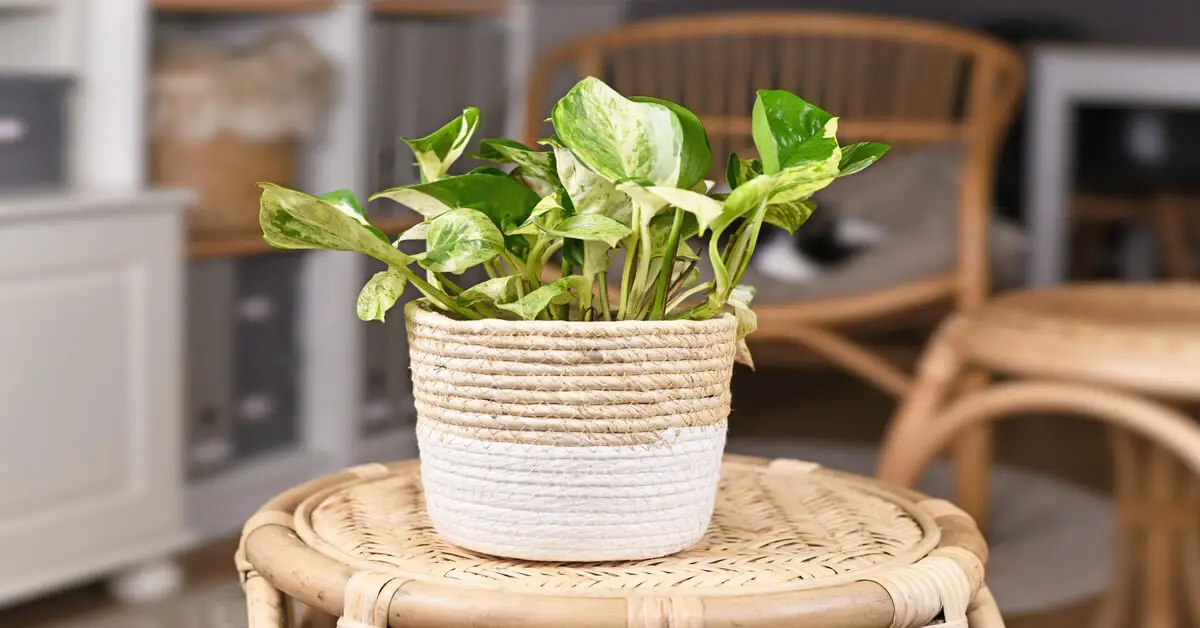 Manjula pothos is one pothos variation that has a unique shape of leaves. The pothos variety has heart-shaped leaves with a curve at the tips giving them a rounder and broader appearance. Also, the ends of the leaves do not stay flat, unlike the other pothos types available.
Manjula pothos is rare and was developed at the University of Florida, which holds its patent.
The leaves of Manjula pothos have striking colors like yellowish green, white green, cream, and silver. The variegated leaves have unique patterns with overlapping colors that make the leaves look stunning.
Neon Pothos (Epipremnum Aureum 'Neon')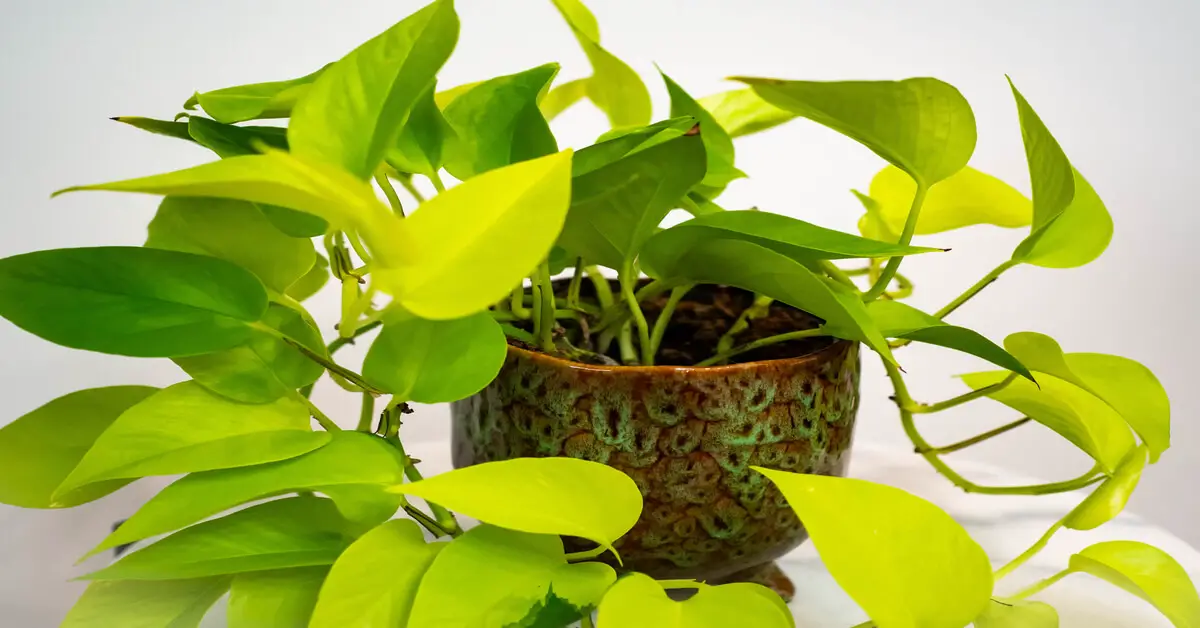 Neon pothos stands out from all the other pothos types thanks to its neon-bright golden chartreuse leaves. The leaves of these pothos are perfectly heart-shaped and have no variegation. While the younger leaves have a more intense color, the leaves darken a bit with age.
This kind of pothos needs bright light to maintain its luscious color. Keeping them in darker and low-light areas can make the leaves dull as the plants pack in chlorophyll to compensate for the lack of light.
Variegated Neon pothos (Epipremnum Aureum Neon Variegata)
While Neon pothos lack variegation and has brightly hued green leaves, the Variegated Neon pothos are known for their bright green and yellow variegated leaves.
It is a rare variety of pothos and, like all other varieties, prefers medium to bright indirect light. Keeping them in darker areas might revert its variegation.
Jessenia Pothos ( Epipremnum Aureum 'Jessenia')
Jessenia pothos, discovered in 2014 by Costa Farms, is a stable sport of Marble Queen pothos. It has delicate-looking heart-shaped medium green leaves with scattered variegation.
Although both Jessenia and Marbel Queen pothos have similar variegation, the Jessenia pothos has chartreuse variegation of two different green colors as opposed to the white markings on the Marble Queen leaves.
Like Marble Queens, these pothos have a slower growth process.
Jessenia pothos, like most pothos types, thrives well in medium to bright indirect light. However, it can also grow in low light conditions.
Pearls and Jade Pothos (Epipremnum Aureum UFM12)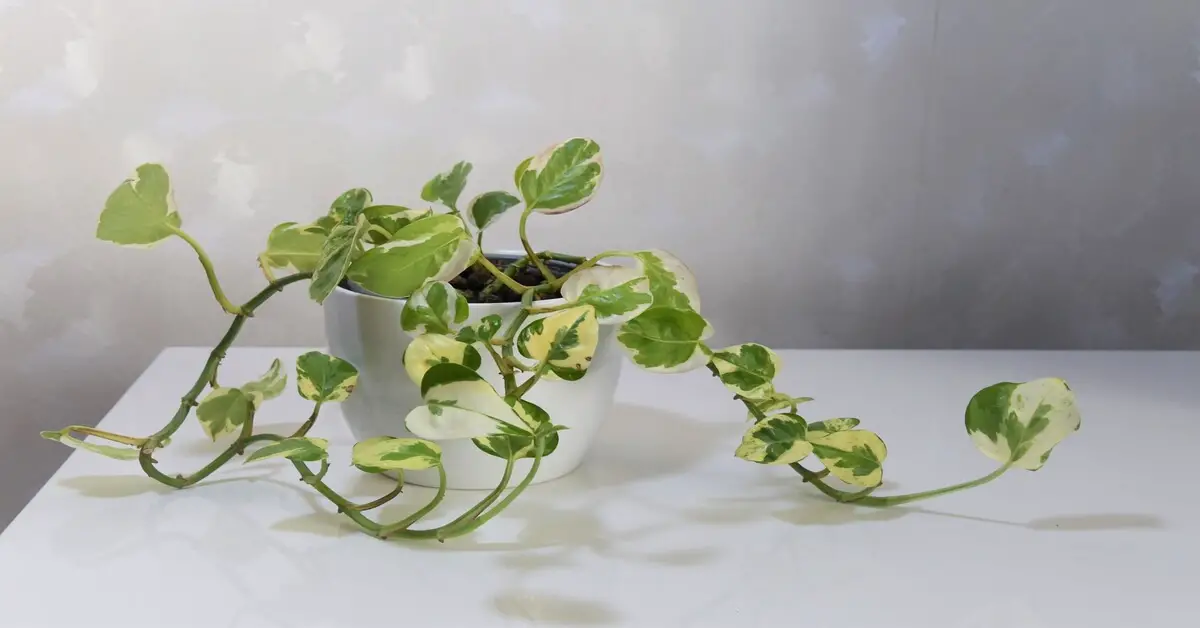 Pearls and Jade Pothos is another spectacular pothos variety originating from the 'Marble Queen.' This kind of pothos has smaller leaves with white edges and prominent streaks of cream, white and gray variegation.
The leaves have a jade green center with white edges and small green variegated lines along the edges. The green in these pothos types can range from bright to intense dark, giving them a stunning look.
Pearls and jade pothos are slow growers and prefer brighter light than other variegated pothos varieties.
N'Joy Pothos (Epipremnum Aureum 'NJoy')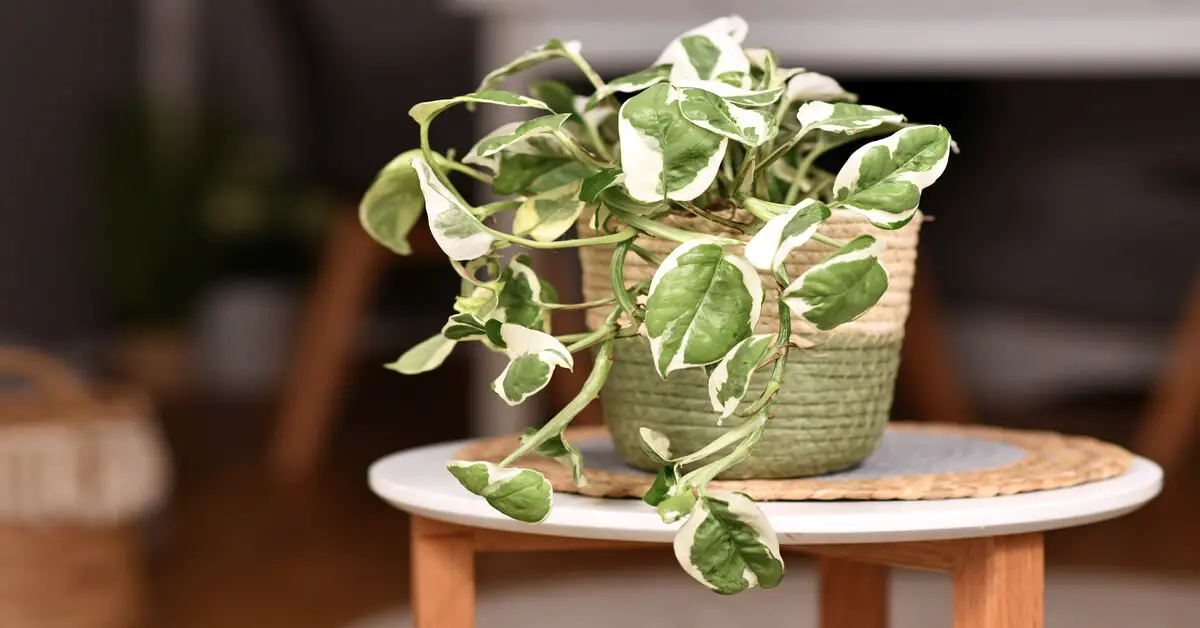 Although N'joy pothos looks strikingly similar to the Peart and Jade variety of pothos, it can be identified by its peculiar characteristics.
While both pothos types have smaller green leaves with white edges and are scattered with white and cream variegation, the white variegation in the N'joy variety does not have green patches.
On the other hand, Pearls and Jade pothos have splashes of green in between the white variegations, setting them apart.
Njoy pothos is one of the youngest members of the pothos array. It has been bred more recently than the other varieties.
Harlequin Pothos (Epipremnum Aureum 'Harlequin')
Harlequin pothos is one of the rarest pothos available and is part of the Araceae family.
The pothos is considered native to Southeast Asia and has highly variegated dark green and cream leaves.
It is similar to the Manjula pothos as both have broad teardrop leaves that are highly variegated. The only way to distinguish between the two pothos varieties would be that the Harlequin leaves have more variegation and intense light green and white colors than those of Manjula pothos.
As with most highly variegated plants, Harlequin pothos needs medium to bright light to maintain its bright variegation.
Jade Pothos (Epipremnum Aureum 'Jade')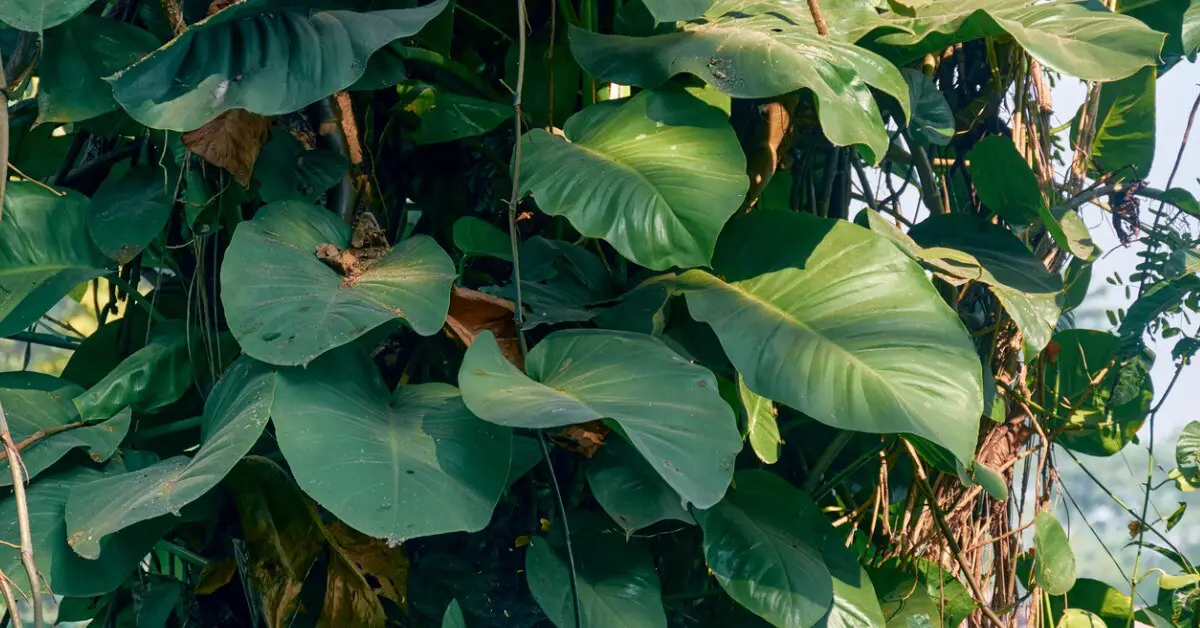 Jade pothos has uniformly dark green heart-shaped leaves. It is a unique pothos variety because of the lack of variegation. They typically have a narrower leaf structure than the other pothos with dark green waxy leaves.
Because of their solid jade green leaves, these pothos varieties can be excellent plants to grow in low light conditions.
Cebu Blue Pothos (Epipremnum pinnatum 'Cebu Blue')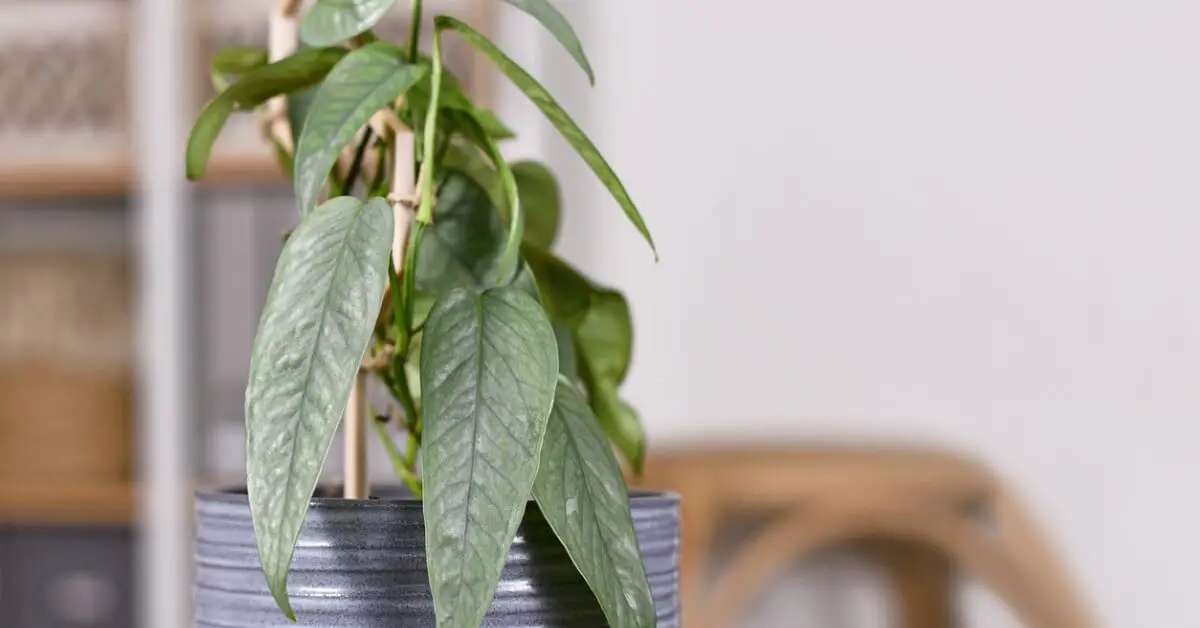 Unlike the other pothos varieties, Cebu Blue pothos belongs to a different genus, – Epipremnum pinnatum. It is a rare variety and is often considered a collector's item in the plant community because of its unique looks.
Cebu Blue pothos has arrow-shaped leaves, unlike the heart-shaped leaves of the other pothos types. It has a rich dark blue-green color with a metallic sheen that sets it apart from the other pothos types.
When Cebu Blue pothos gets enough brightness, the arrow-shaped leaves will enlarge and form natural splits. However, they do require time to mature.
Like most pothos, they are vigorous growers and thrive best in medium to bright lights.
Global Green Pothos (Epipremnum Aureum Asaoka Second PPAF)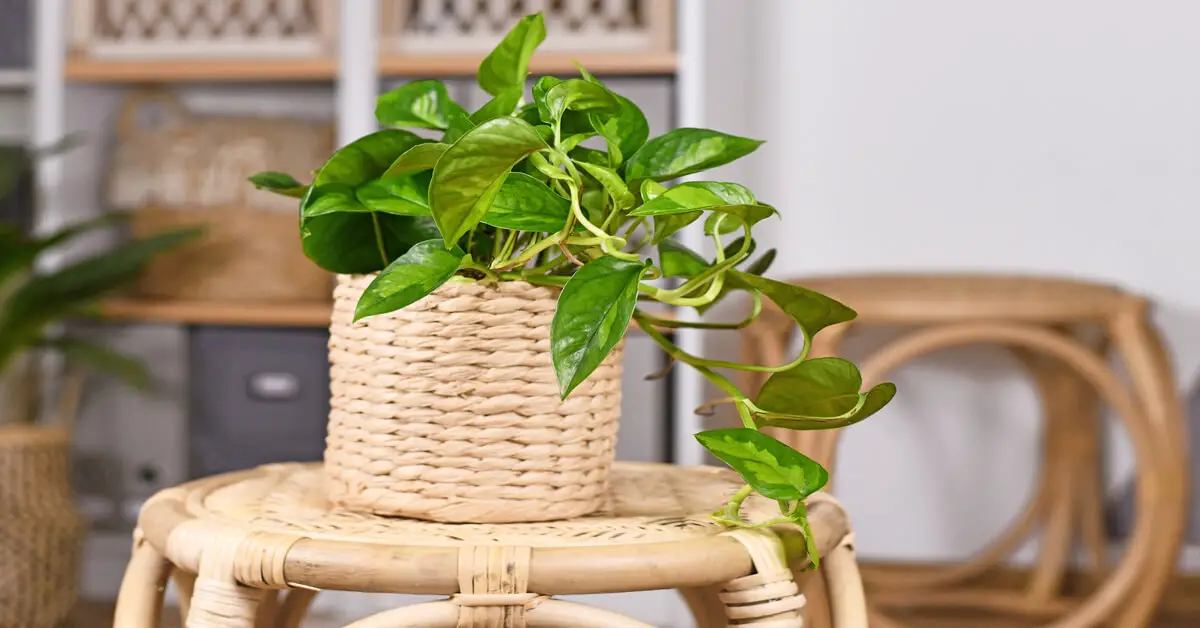 Global Green pathos is an exciting addition to the pothos family. It has dark and light green mottled leaves with marbled variegation.
The different green shades in Global Green pothos are distinctly separated, with the outer edges of the leaves having a dark green color. At the same time, the inner part is splashed with a light green shade.
The distribution of the coloring is similar to N'joy and the Pearl and Jade pothos. This pothos variety needs bright indirect light to maintain its contrasting green leaf pattern.
Satin Pothos (Scindapsus Pictus Argyraeus)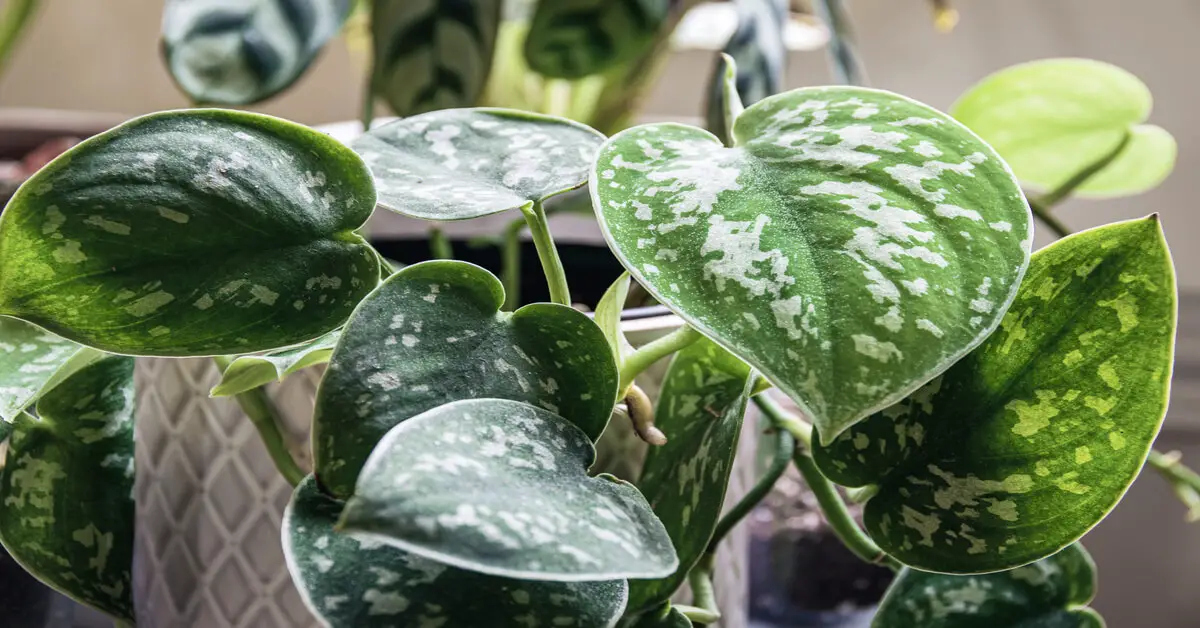 Satin pothos comes from an entirely different species -Scindapsus but is considered a part of the pothos family.
Also known as Silver pothos or Satin pothos, the plant has certain unusual characteristics. For one, Satin pothos blooms, occasionally producing white pinecones like tropical fruit.
It is a trailing plant with matte green shade leaves scattered with light green dots. It is a rare plant not ordinarily available and thrives in bright, indirect light.
Snow Queen Pothos (Epipremnum Aureum' Snow Queen')
Snow Queen pothos has similar characteristics to the Marble Queen Pothos. The leaves of the Snow Queen pothos have stunning white and cream color with thin streaks of light green variegation.
The leaves have an intense white snowy look with a small amount of green (hence the name) and need bright, indirect light to maintain their variegated texture.
Although they come in different shapes, all pothos needs a similar level of care. Primary pothos care would include bright indirect lighting conditions with intermittent watering requirements.
Frequently Asked Questions
What is the most common type of pothos?
Golden Pothos (Epipremnum Aureum)
The most common type of pothos is Golden pothos and known for their emerald green, heart-shaped leaves with creamy white variegation. This tropical vine is easy to maintain and thrives in bright, indirect light.
What is the rarest type of pothos?
Harlequin Pothos (Epipremnum Aureum 'Harlequin')
Harlequin pothos is among the rarest pothos available. It stands out for its highly variegated dark green and cream-colored leaves. It is similar to Manjula pothos but can be distinguished by the abundance of white patches with some green in their foliage.
What is the fastest growing pothos?
Jade Pothos (Epipremnum Aureum 'Jade')
With dark green leaves that are free from variegation, Jade pothos stands out as the fastest growing pothos. Jade pothos are packed with chlorophyll that helps them thrive even in low light conditions. When receiving bright indirect light, Jade can grow faster than most pothos.
Can you mix different types of pothos together?
Yes, you can grow different varieties of pothos together if they thrive in similar growing conditions. Use a bigger pot to ensure they have enough room to spread their vines. Also, do not forget to keep them hydrated and place them in an area with an abundant supply of bright indirect light.